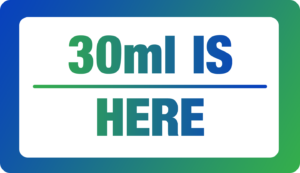 You have asked and we have listened!
We are currently in the process of adding 30ml to our ranges after a high level of requests, we will have this across the entire site as soon as we can.
Below is a list of the first 40 we have added the 30ml option to. If you are looking for a specific flavour in 30ml that is not lised below, please let us know and we will see if we can help sort that for you!
*****Unfortunately we will not be able to extend the 30ml option to the Flavour Art range, this is due to the fact we receive our flavours directly from Flavour Art and they come pre packaged in 10ml bottles. Apologies for any disappointment.
Capella
TFA
We look forward to improving our service further with your help in the future!